After LA, Travis Rice heads North for the Canadian Premiere.
Vancouver, BC – This past Saturday, the Powderheadz.com Team was able to swing some tickets to get a first look at Travis Rice's The Fourth Phase. And with a bit of patience and luck, we were able watch the film with the cast and crew of The Fourth Phase at the same location that Travis Rice premiered 2011's The Art of Flight.  It was a surreal experience for us.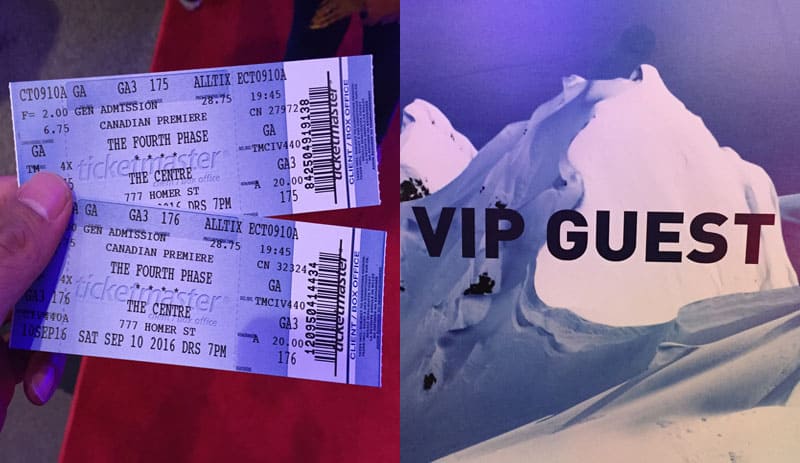 Two days after the World Premiere on Thursday, September 8th at The Shrine Auditorium in Los Angeles, California, Travis Rice and company traveled north to Vancouver, BC for the Canadian Premiere at Centre in Vancouver for Performing Arts of The Fourth Phase.  With introductions of rest of the team, a slight jab to Canada by stating "we didn't film one day here" because "you guys have it to good up here", a fake call-out to no-show Justin Trudeau (no, he wasn't there), and a raffle to the lucky guy in seat 33B who won a few beard trimmings from snowboarder Eric Jackson, the film started with raucous applause.  It was safe to assume that everyone here was pretty amped with Redbull.  Perhaps some Vodka as well. And they had every right to.  It's been 4 long years to see the next film from Rice.
The film opens to a reflective Travis Rice aboard his Catamaran "Falcor" in a nondescript part of an ocean while Dr. Gerald Pollack, Professor of Bioengineering at UW, intros the main thesis to the movie:
'We all learn that water has three phases. The solid state, the liquid state and also the vapor state. You can't explain all the known properties of water with three phases alone. You need a fourth phase. As children, we have this natural tendency to explore. And then we go to school and we have to get the right answer. This has a tendency to squeeze out of us the truth-seeking nature that comes as a human being. Because of the institutionalized nature of science, scientists have become more hesitant to challenge perceived truth. If we wanna get real truth, we have to dig down beneath the foundations.'
And then the movie kicks into high gear. Immediately after the mellow opening, Travis lays waste to the Wyoming backcountry with insane tricks off of eighty foot kickers. He's joined by snowboarders Pat Moore, Cam Fitzpatrick, and Ben Ferguson as they assault the mountain alongside him.  Humble Master and Jackson Hole icon Bryan Iguchi comes along to do a quick session around the Grand Tetons with Rice before Rice embarks on this epic adventure.
"…I realized by combining my love of the ocean with my love of the mountains it might be possible to actually follow the flow around the north Pacific, travel with the water that melts down from the Continental Divide, sail with it as it sweeps across the ocean and turns into the snow that blankets Japan…" – Travis Rice
The crew embarks on their first trip of the journey through a dizzying view of a Japanese airport to some of the most beautiful tree riding we've ever seen.  Travis Rice claims that the Japanese Alps is one of the snowiest places on earth and he wouldn't be wrong. Snowboarders Mikkel Bang and Mark Landvik join Rice as they genuinely 'play' in waist deep powder.
This was the part of the film that was the most enjoyable to me. It looked like 3 guys having the time of their lives and were having a blast doing it. And it didn't look like work.  It looked like a lot of fun and there just happened to be a film crew. And its part of the film that seems the most attainable thing that the audience can do. The gorgeous lines that these 3 were able to take is sure to drive up snow-tourism in the area for years to come.
"…The cycle swings up and tears past the Kamchatka Peninsula…" – Travis Rice
What comes up, must come down.  The sheer joy that is on display in Japan gets replaced with the flipside of the harshness of Kamchatka Peninsula, Russia. This section was probably the most interesting because it shows that even the greatest snowboarders in the world have to deal with an uncooperative Mother Nature or a very uncooperative foreign government.  Or worse, boredom.
Flying around in a military helicopter around an active Russian Volcano was awe-inspiring, but once the riders got on the ground, it was a different story.  They were riding through some of the ugliest, windswept terrain that's been filmed.  You can feel the frustration and boredom build throughout this part.  And although a glimmer of hope gets them flying off for one last try, their trip gets crushed by government officials.  The only silver lining was that Rice, Eric Jackson, and Mark Landvik were able to meet some Russian youths who recognized them from The Art of Flight.  Snowboarding is alive and well in even the most harshest of places.
"…and then finally banks into the catcher's mitt that forms the Gulf of Alaska. These charged weather systems coming off the ocean hit these coastal mountains which ring out precipitation like a sponge, creating some of the most incredible snow formations on the planet." – Travis Rice
Rice, Landvik, and Jackson arrive to variable conditions and a questionable snowpack in Alaska.  The grind of filming this movie has taken its toll on the team and Mark Landvik eventually bows out of film, leaving Rice and Jackson up north to wait it out.  We are rewarded with their patience.  Travis Rice and Eric Jackson put on a clinic of riding Alaskan terrain as they ride through vertical lines, narrow chutes, and knife-edge ridges with ruthless aggression.  You can see the riders release all that built up energy.
Side Note:  You might recognize one of the Lines that Travis Rice takes from Skier Cody Townsend's 2014 Line of the year:
If you've got time, read Travis Rice's conversation with Cody Townsend about it. It's a glimpse to a real world dilemma if hoarding film for a movie while others don't have to.
Rice comes back to Alaska a year later with Victor De Le Rue and Jeremy Jones to tackle Valdez again. And the next part of the film was probably the toughest to watch out of all the segments. The film crescendo's into these scenes and the you can hear the audience at the Centre in Vancouver groan in unison and then remain silent for the next few minutes. It's something you have to see to believe.
"I have not figured out how to separate reckless optimism from a healthy appetite to pursue things until it becomes impossible. To be able to know the difference? Yeah, it'd be amazing. I've been lucky to have a few glimpses into this idea of what letting go really is. I know it's impossible." – Travis Rice
Ending where it begins in the Wyoming Back Country.
The film ends where it begins, on a homecoming high note.  Travis Rice and crew "riding off in the sunset".
The Fourth Phase
lives up to the hype.  If you loved
The Art of Flight
, you'll love this.
Watch The Fourth Phase on October 2nd when it streams live on Red Bull TV at 8 pm.
Happy Riding.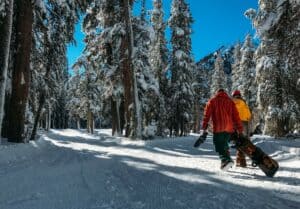 Now that it's getting cold, it's time to go hit...
Read More

Ski Bindings connect your body to your skis. They respond...
Read More