Best Ski and Best Snowboarding Goggles for 2018-2019
It's important for every Snowboarder to find the right pair of the best Snowboarding Goggles available to them. While some say people wear goggles to look cool (and trust us, they do!) they are super important to have on you when you're riding to shield your eyes from the elements; high wind, an over-bright sun, or deep powder. It may seem like it's the last thing you need on the mountain, but not being able to see due to Mother Nature's changing whims can often ruin a pleasant snowboarding experience.  Don't get stuck on the mountain unprepared!
Below you will find our staff's current Top 10 Best Ski and Best Snowboarding Goggles for 2018-2019.  Much like our Top 10 Best Headlamps for 2018-2019, we reviewed all these goggles with comfort, durability, construction quality and design in mind.  These are some of the best Goggles out there, and anytime something better comes along, we will definitely update this list with the latest and greatest snowboarding goggles.  Choosing the perfect pair of goggles can be a little overwhelming. But this Top 10 Best Ski and Snowboarding Goggles list is here to help you find the best set of goggles for your needs.  Enjoy, and of course. . .safe riding!
Our Top Rated Goggles
---
---
---
How-To:  Buy Goggles
---
Goggles are one of the most important pieces of equipment a Snowboarder can buy.  Any Snowboarder can tell you that not being able to see can ruin your day faster than a really cold or wet day.  All the best snowboarding goggles will offer some protection from the elements, but beyond that, there are some key features to consider:
---
Lens Type:
Goggles Lens' come in two shapes, Cylindrical and Spherical:
Cylindrical Lenses curve horizontally across the face.  Cylindrical Snowboarding Goggles are usually cheaper and are adequate, but the general flatness of the lenses can slightly reduce peripheral vision and cause more glare.
Spherical Lenses curve across your face both horizontally and vertically.  Spherical Snowboarding Goggles are generally more expensive but they give better peripheral vision (larger lenses will give better lines of sight), less distortion, and less glare.
---
Lens Color / Tint:
Snowboarding Goggle Lenses are often measured by VLT (Visible Light Transmission); it's the amount of light that can pass through the lens (ranging from 0% to 100%). Lens Color is an important feature that serves to filter light differently and offers advantages in certain weather and/or light conditions. There are dozens of lens colors to choose from that vary from brand to brand, but lenses can be broken up into a few categories:
Lighter – Lighter Colors such as Pink, Yellow, Amber, all have a higher VLT (60% – 90%) and make excellent choices for low-light, foggy, or snowy days.
Mid-Range – Mid-Range Colors such as Gold, Green, Rose, and Red (30% – 60%) perform well in both conditions and are great choices if you experience changing light conditions throughout the day.
Darker – Darker Colors such as Dark Brown, Black, Grey, or Mirrored have lower VLT (5% – 30%) and excel on sunny/bluebird days because they let less light in.
Clear – These lenses have no colors on them and are best used for Night Skiing.
---
Goggle Ventilation:
Nearly all high-quality goggles have some form of venting to prevent fogging; this happens when warm air from your body meets the cold air from outside. To prevent fogging, Goggles will have some combination of double-layered lenses, anti-fog coatings, and/or vents. Be sure to compare your goggle shape with your helmet to prevent the vents from being blocked.
Double-layered lens – Found on nearly all Snowboarding goggles because they do not fog as quickly as single-layered lenses.  If you've ever looked through an airplane window, you get the idea.
Anti-fog coating – Many high-end goggle lenses have special coating to help prevent fogging.  You can also apply anti-fog products such as Zooke Z-Wax defogger to low-end and older snowboard goggles to help prevent fogging.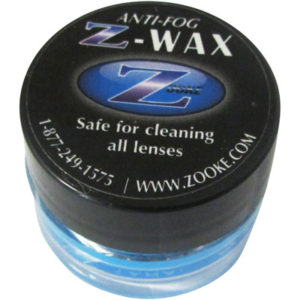 Vents – Usually placed in the top, bottom, and sides of the front of the goggle frames, vents help control fogging at the expense of a lower temperature, especially in frigid climates.  Most goggles will have frames that can open / close vents according to the person's preference.
---
Frame and Fit:
Goggles frames come in the usual sizes of small, medium, and large. Some manufacturers will also have OTG (Over The Glasses) Style frames that are designed to be worn over your glasses. These types of goggles have the space to fit glasses while avoiding pressure on your face from the nose piece and temples.
Many adults will often choose medium-sized goggles while children will choose small-sized goggles.  However, before you purchase your goggles its best to compare them with the helmet you plan on using.  Most goggles will also have an adjustable strap with a single sliding clip or an open/close buckle with sliding clips on the side.
Also keep in mind the type and amount of foam padding on the back of the goggles.  The foam should be thick enough to cushion your face but not too thick that fogging occurs.
---
Other Features:
Interchangeability – Ideally, you want to find a pair of goggles that will allow you to replace the lenses.  If you plan on going for a long trip or know there will be variable conditions on the mountain you'll be riding, you'll want the option to swap out your lenses instead of bringing to pairs of goggles.
UV protection – Nearly all goggles offer 100% UV Protection from all 3 types (UVA, UVB, and UVC).
Photochromic lenses – Usually found on the most expensive goggles, Photochromic Lenses change their tint level based on conditions and/or UV intensity.  Sunny means a darker lens while snowing or overcast days means a lighter lens.
Mirrored lenses – These lenses reflect light and allows between 10 to 50% less light in than non mirrored lenses.
Digital Display – Found on the most expensive goggles such as  the Zeal Transcend Live SPX GPS, a digital display is often Bluetooth-enabled that provides Smartphone feedback within the goggles in real-time.
---
---