Best Headlamps for 2018-2019
Below you will find our staff's current Top 10 Best Headlamps for 2018-2019.  2017-2018 was an amazing season for snowboarding and 2018-2019 is going to be even better.  Our team has gotten a look on some of the Best Headlamps out there for Snowboarding (or Hiking and Running!) so far.  And getting hands-on time with some of the coolest headlamps out there has been a real pleasure!
Choosing the perfect Headlamp whether you are Snowboarding at night or camping on vacation can make all the difference between frustration and a fantastic experience. No one likes a dim or ineffective Headlamp and relying on a flashlight or smartphone light to guide you through the night is never ideal.  In order to make this Top 10 Best Headlamps List, all headlamps had to satisfy certain requirements. Comfort, durability, construction quality and design were all factors.
Ranked from Skier's, Snowboarders, Campers, and Hikers scattered across the globe, These headlamps have been tested in various conditions and environments.  From the Mountains of the Pacific Northwest to the Alps in Europe and the Andes in South America, these headlamps have seen a variety of things. These are some of the best Headlamps out there, and any time something better comes along, we will update this list with the latest and greatest headlamps.  Choosing your first headlamp as a beginner can be a little overwhelming, but this Top 10 Best Headlamps list is here to help you find the best headlamp for your needs.  Enjoy, and of course. . .safe riding!
Our Top Rated Headlamps
---
The Black Diamond Revolt Headlamp is one of the best headlamps and overall a stellar product. It's above average in nearly every major category: emits up to 300 Lumens in max mode, Red night vision mode, and a dimming feature. But it's major selling point is its battery performance by using rechargeable batteries and integrating a charger in the housing that is supported by a USB adapter.  
It's a great option for long trips as you don't need to carry additional batteries with you. Just top up the battery after every use by plugging it into a car adapter, laptop, external, battery, etc. and you'll start your next adventure not having to second guess your battery life. This is an excellent option for someone to buy a Snowboarding Headlamp once and never having to buy another one again.
Powderheadz Rating

The Coast HL7 Focusing Headlamp is a beast of a headlamp and is one of the strongest and brightest headlamps on the list. It is able to project light over 150 meters and has almost three times the brightness as another competitor on the list, the Black Diamond Revolt Headlamp ReVolt. The Coast HL7 has a high usability factor a ton of features. First, it has the ability to transition from a wide floodlight to a focused spotlight with a simple twist of the bezel. Second, a simple on-off switch in the front. And third, an easy-to-use dimmer lever on the back by the battery pack.
However, the one drawback on the Coast HL7 Focusing Headlamp is the battery life, which clocks in around 4 hours. If you can do without a long battery life, this is a perfect choice to ride down the mountain for a night or a short trail run.  Just remember to bring extra batteries.
Powderheadz Rating

Compared to the Black Diamond Spot Headlamp, the Black Diamond Storm Headlamp would be considered the bigger, stronger, older brother. This robust headlamp packs 250 lumens using 1 QuadPower LED along with 1 DoublePower white LED.  However such a powerful Headlamp requires four AAA batteries instead of three.
While it shares many of the same attributes as the Spot Headlamp such as PowerTap Technology it also includes Red and Green SinglePower LEDs for better Night Vision. Also, the Storm comes with a customized housing that is completely sealed from dust and water.
This is the premier Headlamp for outdoor usage, whether that is climbing in wet caves, hiking up tropical forests, and snowboarding in deep powder. The Black Diamond Storm Headlamp is a must buy for any outdoor enthusiast who doesn't let a lack of sunlight get in the way. We believe it to be one of the best headlamps available.
Powderheadz Rating

The Black Diamond Sprinter Headlamp is a perfect multi-discipline headlamp that can provide stellar light riding down a mountain or running on a dark, but busy road. This Headlamp is designed with the runner in mind because of the three red strobe taillights that can give fair warning to bikers or drivers coming up behind you. Or it can give your snowboarding partner another point of reference to find you when riding through the trees. The versatile Black Diamond Sprinter Headlamp is a perfect option for those who are into multiple sports and would rather buy one headlamp instead of more.
Powderheadz Rating

The Petzl NAO is in a league of its own. Considered one of the more luxurious headlamps out there, the Petzl NAO Headlamp has an amazing feature: the ability to adjust light output based on the situation. The integrated front sensor responds to reflected light and adjusts accordingly, giving you the perfect amount of light you would need in any given situation. When you're stopped reading a map or your phone, the light will become soft and diffuse. When you're moving, the headlamp will use a wide medium setting to show obstacles within your field of view. And when you're looking ahead, it brightens and narrows to help you pick out your next target/path.
Best of all, it's extremely customize-able using Petzl software to add up to 4 profiles/preference types to suit your needs. You can also read our full hands on review HERE.

Considered the generic, baseline model of the group, the Petzl TIKKA + Headlamp is a perfect purchase for the casual user. It's one step up from the Petzl Tikkina and a few models down from the overpowering Petzl NAO. With 180 Lumens, The LED is brighter and has more control than the Tikkina model.
It also features a red LED for better night vision and a boost mode that allows temporary access to maximum brightness with a single press of a button. Other great features include consistent light output over the life of the batteries and a reserve mode when the batteries are running low. This is an ideal value-based headlamp that has great all-around uses. It doesn't excel in any given category like the other headlamps on this list, but it isn't inferior in any category either. 
Powderheadz Rating

With a combination of a single Maxbright LED that throws a 150-lumen spot beam and 3 Ultrabright LEDs, the Princeton Tec Remix Headlamp has the ability to perform in any environment, whether you need it for a close range area headlight or long distance spotting. The simple lightweight design is equipped with an asymmetrical bracket, an easily accessible battery door enclosure, and a large easy-to-use push button switch to go between modes. The end result is a headlamp with true versatility in a compact, water-resistant package.
Powderheadz Rating

One of the most popular headlamps out there, the Black Diamond Spot Headlamp is an all around headlamp capable of just about everything. This waterproof headlamp (up to 1.1 meters submersion for 30 minutes) comes equipped with the stellar brightness of 200 lumens. Also included is the PowerTap Technology that allows the user to make quick beam adjustments on the fly with small taps to the side button, allowing simple transition between full and dimmed power to increase or decrease illumination in distance or proximity modes. This feature's ease of use is a step up from normal button presses but a step down to the adaptive adjustment of Petzl's Reactive Lighting Technology found in the Petzl NAO Headlamp.
Powderheadz Rating

The Fenix HP25 Headlamp is by far, the strongest, brightest headlamp on the list, and sometimes that's all you need. It beats all the competitors by being able to project a beam of 180 lumens at over 160 meters! The trade-off for the Fenix HP25 Headlamp is it is heavier than the rest and drains batteries the fastest. However, the superior strength of this Headlamp more than compensates what it lacks in the other statistical categories of the other Headlamps such as the Black Diamond ReVolt or the Coast HL7.
Sometimes all you need is a super bright light when you're running around at night or doing some quick turns in the trees. With the Fenix HP25 Headlamp, you'll have the knowledge of knowing that nothing is brighter.

The Petzl TIKKINA Headlamp is an excellent Budget Headlamp that works great as an entry-level Headlamp. Considering the price, it gets the most bang for the buck in terms of battery life and performance. When compared to other headlamps in it's price range, it drastically out-performs its competition. Any other Headlamp that you find that costs less than the Petzl TIKKINA Headlamp will have a significant drop-off in brightness and battery life. Anything less, and you get what you pay for.
Powderheadz Rating
---
And there you have it!  Our current Top 10 Best Headlamps of the 2018-2019 Season.  There are literally hundreds of headlamps out there and finding the right one can be a challenge, so hopefully you agree with out choices.  Do you think a certain headlamp deserves a spot on our Top Rated Headlamps list?  Let us know?  Email us at info (at) powderheadz.com and we will do our best to give it a thorough testing!  Need more tips?  Look below for a thorough guide on how to determine which headlamp is right for you.  Happy riding!
>>Need some gloves?  Click HERE for the Best Ski Gloves of 2018-2019<<
>>Need a Helmet?  Click HERE for the Best Helmets of 2018-2019<<
---
How-to:  Buy Headlamps
---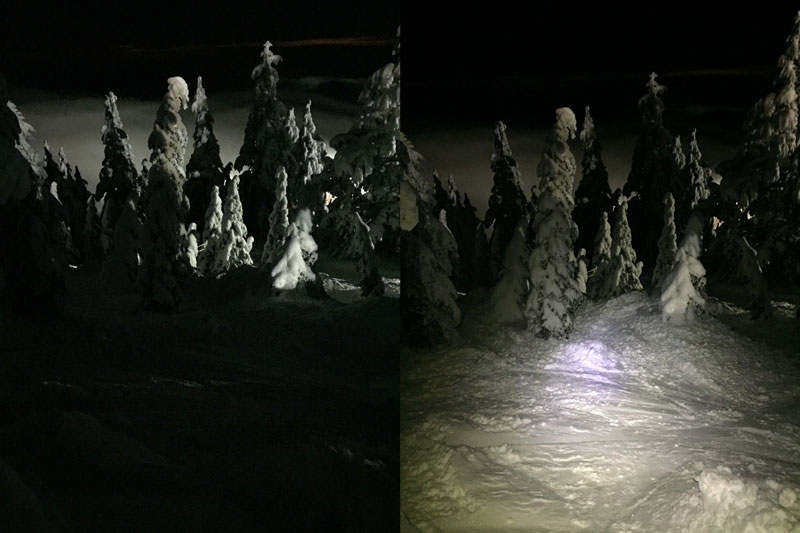 Headlamps today use LEDs (Light-Emitting Diodes) which are energy-efficient, long-lasting, and extremely durable.  But how can you tell the difference between headlamps?  There are several ways to determine which Snowboarding Headlamp is right for you:
---
Light Output (Lumens):
Lumens are a unit of measurement that indicates the total amount of light that is emitted in all directions from a light source. Generally, a headlamp with a high amount of lumens will consume energy at a higher rate than a light with a lower amount of lumens. However a higher lumen count doesn't always mean a brighter headlamp. The brightness of a headlamp is usually determined with how well the Headlamp Manufacturer focuses and directs the light.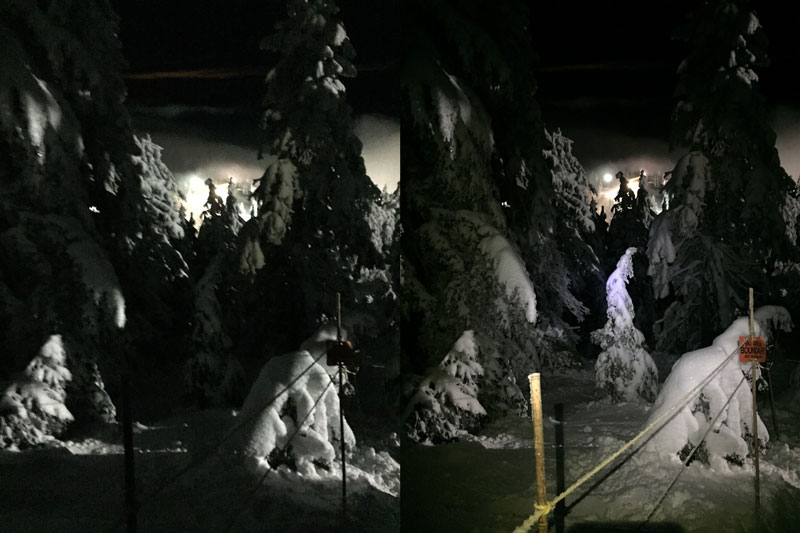 ---
Beam Distance:
A headlamp's main purpose is to channel light to a targeted area. The manufacturer will usually determine how far (in meters) a headlamp's light will project useable light. While lumens determines how bright a headlamp will be, beam distance will tell you how far the beam will travel.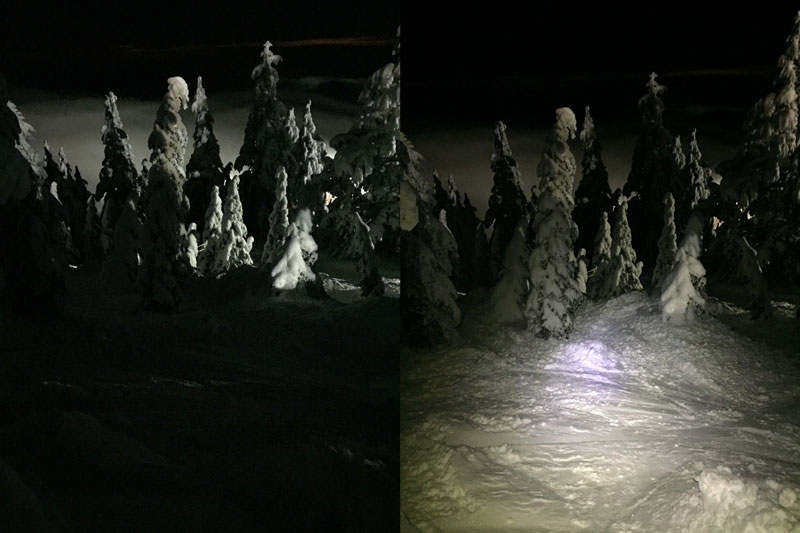 ---
Beam Type:
Spot – This beam type is usually tighter and enables long-distance viewing.  This version is usually best when going really fast down a mountain.
Flood – This is usually suitable for slower, more technical snowboarding in the trees.  It's best to ride with this type of beam to see a large surrounding area.
Spot/Flood (Adjustable) – The best of both worlds and the most versatile.  It's recommended to find a Headlamp that has this option.
---
Headlamp Modes:
Low – This is usually the standard setting that most Headlamps will use and is perfect when you have some moonlight to also guide you through the mountain.
Mid – Some Headlamps will have settings between Low and High to give the user more options.
High – This is usually the max setting that offers the most light available given on the model.  It's best to use this when its almost pitch black due to cloud coverage or Moon-less nights.  However this setting will drain the battery the fastest.
Strobe – This mode usually comes with two rates:  fast and slow.  It's often used as an emergency signal.
Red Light – Some headlamps will offer this mode which can help prevent the pupil to shrink as compared to the standard white light.  It's good for nighttime navigation (when you're walking around), but not necessarily when you are snowboarding.
---
Battery Life:
Headlamp Manufacturers usually determine the Headlamps effectiveness or run time based on how long the headlamp can produce usuable light (think light from a full moon) at two meters. Most Headlamps are designed to work with lithium batteries because they normally outperform alkaline batteries in cold-weather conditions. Rechargeable batteries work as well, but they tend to lose power when they are sitting idle. However, it's always smart to carry backup batteries just in case. Never get stranded on a mountain because of carelessness.
Also, some high-powered headlamps offer battery packs in the rear of the headband with a small cable running to the front of the headlamp. It spreads the weight of the entire headlamp across your head, but it often feels clunky. It's best to stick with regular headlamps.
---
Weight:
Usually, most Headlamps weigh less than 8 ounces (including batteries).  You won't notice a difference in weight between Headlamps unless you go for some of the high-powered models that have external battery packs or have top straps for balance.
---
Other Features:
Regulated Output – Instead of the headlamp's light gradually dimming, a regulated headlamp will offer a steady amount of brightness throughout a battery's life.  This is a very popular feature but the downside is once it goes dark, it goes dark.  You won't get the gradual warning that your headlamp is about to go like you would if your headlamp was unregulated.  That is why it is always important to carry spare batteries.
Water Resistance – Most headlamps will be able to withstand some degree of moisture from water and snow and can handle be immersed in water depending on length of time and depth.  Usually, this is a non-issue.
Tilt – The ability adjust the headlamp up and down while you are wearing it is a great option to consider.  It lets you position the beam exactly the way you like it and lets you ride more comfortably.
Top Straps – This option helps with the stability of the headlamp.  You usually won't need this option since the headlamp is usually wrapped around your helmet.  You may want a top strap if you are planning to use this headlamp for other activities besides Snowboarding.
---
---
---